Mercedes-Benz Pontons (1953-1962)
www.mbzponton.org
| | | | |
| --- | --- | --- | --- |
| 4 cylinder sedan | 4 cylinder roadster | 6 cylinder sedan  | 6 cylinder cabriolet |
Willkommen! This site explores, chronicles and celebrates the unitary-construction sedans, coupés, cabriolets, roadsters, and variants built by Daimler-Benz from 1953 to 1962. It also serves as a central meeting place where Mercedes-Benz Ponton owners, friends, and associates from around the world can share their knowledge and experiences. Features include: production and technical data, resources for new and used parts and services, discussion forums, technical literature, instruction guides, photographs, and more.
---
---
S p o t l i g h t
1959 Mercedes-Benz Type W180 220S Ponton sedan
Dear readers,

Just came across this image of our family near Wagenfeld, Germany in 1960 or '61. Note the whitewalls! We bought the car new, picked it up at the factory, and drove it 225,000 miles before passing it on in 1971. Wagenfeld is where my great-grandfather Rudolf Hagen was born. Does anyone know this location, and possibly describe how it looks today?

Regards,

Paul DeLucchi
San Rafael, California
pauldelucchi@earthlink.net
Spotlight Updated: December 26, 2015
---
---
Principles of Pontonology
---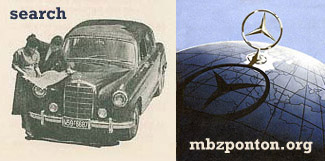 ---
Comments, Suggestions, and Corrections to editor@mbzponton.org
Comments, suggestions, and corrections are welcomed. These pages are NOT affiliated with, sponsored by, nor authorized by: Daimler AG and/or its associated companies, Mercedes-Benz USA (MBUSA), or the Mercedes-Benz Club of America (MBCA). The editor assumes NO LIABILITY based on information contained herein. No part may be published or reproduced without explicit permission from the editor.
Established: September 25, 1995
Editor/Publisher 1995-2000: Ray Ilich
Editor/Publisher 2001-2016: Jeff Miller
Copyright © www.mbzponton.org
All Rights Reserved
---