Mercedes-Benz Ponton
Technical Contributions
---
---
Attention!
Mercedes-Benz Ponton owners, mechanics, technicians, enthusiasts, technical writers, and photographers...
If you have a desire to share your Mercedes-Benz Ponton knowledge, passion, and experiences, then why not consider utilizing your writing and/or photography skills (amateur or seasoned) to make these pages a more comprehensive resource?  Example articles can be found on the Workshop page and the Ponton Extra! page.
GOT WRITER'S BLOCK?
If you need help getting started, the editor will help develop your content for the Mercedes-Benz Ponton website. Send ideas, technical information, drafts, or finished work to: editor@mbzponton.org
The door is open...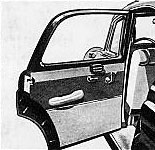 ... for you to contribute !
The editor is seeking: articles, experiences, instructive guides, facts, figures, photos, stories, and technical data which pertains (but is not limited) to:

Your Mercedes-Benz Ponton (past, present or future)
Binz variants (pick-up / wagon / ambulance)
Photos of your Pon'-ton-o-bil'-ia
Pollmann variants (hearse)
Swing axles
Daimler-Benz / Studebaker-Packard alliance / Establishing a USA dealer network
Ponton-era "Mercedes-Benz in aller Welt" publications
OEM radios (Becker / Telefunken / Blaupunkt / Philips)
Ulonite 105 reflectors (sources for reproductions or new)
Tool kits (original) for Mercedes-Benz Pontons
Interior colors (cloth, leather, MB-Tex)
Shift linkage bushing (technical and illustrated)
---
© www.mbzponton.org

Comments, Suggestions and Contributions to: editor@mbzponton.org
---
Return to the Mercedes Ponton page
---