Mercedes-Benz Pontons (1953-1962)
www.mbzponton.org
| | | | |
| --- | --- | --- | --- |
| 4 cylinder sedan | 4 cylinder roadster | 6 cylinder sedan  | 6 cylinder cabriolet |
Willkommen! This site explores, chronicles and celebrates the unitary-construction sedans, coupés, cabriolets, roadsters, and variants built by Daimler-Benz from 1953 to 1962.  It also serves as a central meeting place where Mercedes-Benz Ponton owners, friends, and associates from around the world can share their knowledge and experiences. Features include: production and technical data, resources for new and used parts and services, discussion forums, technical literature, instruction guides, photographs, and more.
---
---
S p o t l i g h t
1956 Mercedes-Benz Type 190 Ponton sedan
Örn Sigurðsson / Iceland
Hofdi House, built in 1909, is best known as the location for the 1986 summit meeting of presidents Ronald Reagan and Mikhail Gorbachev — a historic event that effectively marked the end of the Cold War. During this meeting images of the house were broadcast all over the world. A Japanese millionaire even had an exact replica of the house built in his country. Among other renowned guests of Hofdi House are various celebrities and heads of state, amongst them Queen Elizabeth II, Winston Churchill, and Marlene Dietrich. In addition, the house is believed to be occupied by a ghost, "The White Lady", experienced by a former British Ambassador who once occupied the house. She tried his nerves so badly that he persuaded the British Foreign Office to sell the house.
Spotlight updated: March 6, 2013
---
Principles of Pontonology
---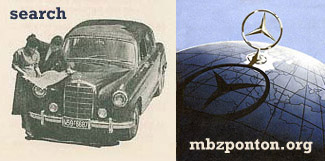 ---
Comments, suggestions and corrections to: editor@mbzponton.org
Comments, suggestions, and corrections are welcomed. These pages are NOT affiliated with, sponsored by, nor authorized by: Daimler AG and/or its associated companies, Mercedes-Benz USA (MBUSA), or the Mercedes-Benz Club of America (MBCA). The editor assumes NO LIABILITY based on information contained herein. No part may be published or reproduced without explicit permission from the editor.
Established: September 25, 1995
Editor/Publisher 1995-2000: Ray Ilich
Editor/Publisher 2001-2013: Jeff Miller
Copyright © www.mbzponton.org
All rights reserved
---