Mercedes-Benz Ponton Photo Gallery
Type W128 (6 cylinder / fuel injected / cabriolet / sedan / coupé)
Including models: 220SE
---
---
Type W128 220SE sedan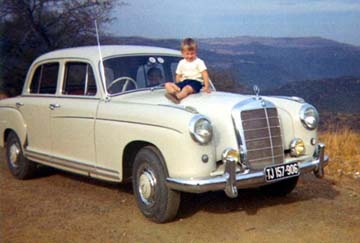 January 1962: John R. S. Dowsett on his father's 220SE Ponton in the Transvaal province of South Africa
---
1957 Type W128 220SE cabriolet
Nicholas Thorpe / El Puerto de Santa Maria, Cadiz, Spain
---
1958 Type W128 220SE rally coupé
owner: Rich Morrison / rich@morrisonventures.com / Salina, Kansas USA
Photos taken Saturday April 16, 2005 at an SCCA autocross in Salina, Kansas. About 20 years ago (for a period of six to eight years) this was the site of the SCCA Solo II National Championships.
---
1959 Type W128 220SE coupé

owner: Mickey Suen / Palo Alto, California USA

This coupé has a steel, Webasto sliding sunroof, and was originally owned (documented and confirmed) by the film star Ernest Borgnine.

Photo courtesy: Dave Sandlin / November 15, 2002
---
1959 Type W128 220SE cabriolet
Dr. Bruce A. Thomson / thomsonb@swbell.net / San Antonio, Texas USA
---
Type W128 220SE sedan with Webasto sliding sunroof
---
1959 Type W128 220SE sedan with Webasto sliding sunroof
owner: Steve Whiteside / sewhiteside@cs.com / New Orleans, Louisiana USA
Photo submitted: September 28, 2002
---
1960 Type W128 220SE coupé
owner: Harris Kerr / Midland, Texas USA
---
1960 Type W128 220SE coupé
former owner (sold in 2012): Ed Richardson / er2x@verizon.net / California USA

The Daimler-Benz Sindelfingen Werks produced a mere 830 Type 220SE coupés between 7/58 and 11/60. This makes it the rarest of all Ponton series models. The photo of the young driver (Ed's grandson) was taken at the Palos Verdes Concours d'Elegance on September 10, 2000 at the Ocean Trails Golf Club.
---
1960 Type W128 220SE coupé
owner: Akinori Kuno / BQY06420@nifty.com / Tokyo, Japan
My Ponton is a 1960 220 SE coupé, and she has a strange history. A generous gentleman, Mr. Ryan, who lived in Seattle, Washington left his last words to his son to send a brand new Mercedes-Benz to his Japanese friend Mr. Niimoto. Receiving this big gift, Mr. Niimoto cared for and loved this car very much. Twenty-five years later, Mr. Niimoto passed away leaving a message to his son, to take care of the Ponton. Niimoto Jr. kept this car for 10 years, but he got too busy and so now, I follow in his foot steps.
Though this Ponton was re-sprayed 20 years ago, this is the most original one in the world. Can you believe the original mileage is only 20,150 km? No overhauling, no re-chrome, original leather and original carpets. I drive the Ponton only for special occasions like weddings and parties. Only trouble is the rubber in the sun visor is changing into powder.

Akinori Kuno
Tokyo, Japan
October 18, 2003
---
1960 Type W128 220SE coupé
owner: Moosa E. Moosa / Brookline, Massachusetts USA
---
1960 Type W128 220SE coupé with factory sunroof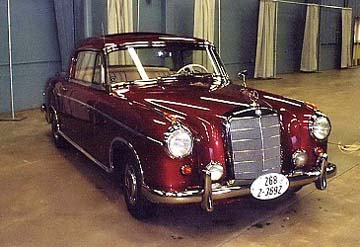 owner: Charles Boyd / charliel@texhoma.net / Duncan, Oklahoma USA
This 1960 220SE sunroof coupé (chassis number: 128.037-10003224) was originally delivered in the Netherlands. All numbers still match the original invoice and the car has 133,000 kilometers. No major engine or transmission work has been done although extensive body restoration was completed three years ago. The vehicle was shipped from the Netherlands to California in 1984. It has resided in Washington , Colorado and now in Oklahoma. All previous owners in the USA have been verified with mileage at the time they owned it documented. The 130,000 kilometer reading is the true mileage. The original color scheme was a gray bottom, deep green top and olive green upholstery. Being a person who believes that grass and trees should be green, but not cars, the color was changed to DB512 "Garnet Red" metallic. The upholstery is beige with Garnet Red piping. The wood is Macassar Ebony. All service records, as well as documented restoration records, since 1984, are a part of the history of this vehicle.

Charles L. Boyd
1115 Pine Street
Duncan, Oklahoma 73533
July 29, 2004
---
Greetings Ponton enthusiasts,

I am the proud, second owner of this 1960 220SE (W128) coupé. It was sold new in Oslo, Norway and stayed with the first owner's family until 2009. The exterior is black, and the interior is red leather. The car was shipped to the dealer in Oslo on March 14, 1960. It did not spend much time in the showroom because it was sold to Mr. Nils S. Stiansen, and got its licence plates on May 16, 1960. It still carries these plates! It came from the factory without a radio. In brief; it is original, and unrestored with some 90,000 km on it.

Best regards,

Arvid Christiansen
Gjettum, Norway
January 27, 2014
---
1960 Type W128 220SE cabriolet
owner: Alex Dearborn / Massachusetts USA

more photos
Photo submitted January 8, 2007
---
1960 Type W128 220SE cabriolet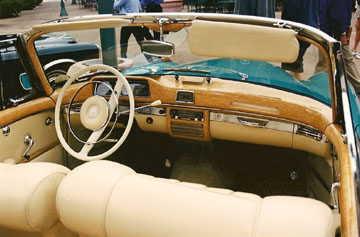 owner: Michael Grosvenor / Los Angeles, California USA
Original color: DB 250 Canton Blue
Photo submitted May 6, 2010
---
1960 Type W128 220SE cabriolet
owner: Bob Berman / Rose Valley Pennsylvania USA
1960 Mercedes-Benz Type W128 220SE cabriolet with 29,000 original miles. This vehicle is why my 1959 220S coupé was replaced in the spring of 2007. It has 29,000 original miles. I hope this one will be as good to me as the coupé was.
Photo submitted June 13, 2007
---
1960 Type W128 220SE cabriolet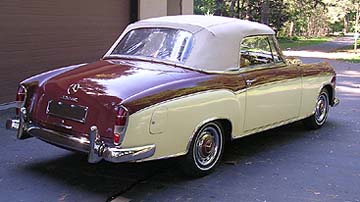 owner: unknown / Rochester, New York / September 2003
---
Return to the Ponton Photo Gallery
Return to the Mercedes Ponton page
---