Mercedes-Benz Ponton Collection
1955 Type W180 220a sedan
1960 Type W128 220SE coupé
1959 Type W180 220S cabriolet
Moosa E. Moosa / Massachusetts, USA
---
My Interest in Cars
I was born and grew up in South Africa where I had an interest in cars for as long as I can remember. My parents had a Borgward for a long time, and I learned to drive in it. Then they purchased a 1968 Mercedes-Benz Type W115 220 sedan. It was a great family car, and we enjoyed it immensely. Mercedes-Benz vehicles were everywhere in South Africa, and they were assembled there with some local components. It was a hardy car and well suited for the tough road conditions. From an early age, I had a liking for the older models. There were quite a few Ponton and "Finnie" (Heckflosse) models in South Africa. They were quite affordable on the used market. My college car in South Africa was a 1967 Volkswagen bug. In 1985, I came to the USA on a Harvard fellowship and kept my eyes open for an older Mercedes-Benz, but other priorities came first. I have owned a number of Mercedes-Benz, but the Pontons are still my favorites.
---
1955 Mercedes-Benz Type W180 220a Ponton sedan
I own a 1955 (manufactured in September, 1954) Type W180 220a Ponton round body sedan. It has a black exterior with a dark green leather interior. It was ordered by Hoffman in New York, and shipped from Hamburg in September, 1954. I am the third owner. The original owner used the car in New York, Puerto Rico and then in Andover, Massachusetts as the family relocated. The previous owner knew about the car for many years and always had his eyes on it. He bought it from the estate when it became available and the widow sold him the car because she knew that he would take good care of it. The car has been well maintained over its life. I first saw the Ponton at an M-B dealership when shopping for a new car. It was on consignment and to cut a long story short, a few days after I saw it, the dealership went out of business and I was able to buy it directly from the owner at a much lower price.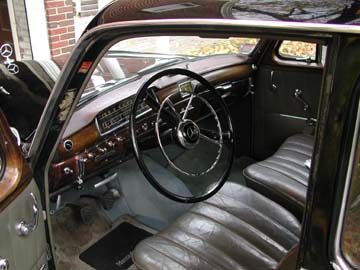 The car is pretty much original and in excellent mechanical and cosmetic condition. All the numbers match the original build sheet from Daimler-Benz AG (DBAG). The previous owner had not done a good job with the paint but it is quite acceptable. It has good quality chrome except the left portion of the rear bumper.
I have taken care of the following since owning the car:

New tires
New batteries
New brake cylinders, linings, cables and hoses
New stainless steel exhaust system
New hoses
New flexible coupling in drive and steering shafts
New rubber floor mats for the front floor
New rear lenses
Reconditioned the radiator
Reconditioned the speedometer/odometer
Reconditioned the clock
Rebuilt the carburetors
Replaced the clutch linkage
Repaired the Becker Mexico radio

My objective has been to keep the car as original as possible. Safety and reliability are not compromised. It gets only the OEM parts, or if I can find a good used part then it is okay. No shortcuts are taken.

I am a decent shade-tree mechanic with a good knowledge of this car. I perform minor repairs, adjustments, etc., but any major work is done by mechanics that I feel comfortable with. It has not had much during my ownership except the initial spurt to get everything right. I am knowledgeable about sourcing parts, and have a pile of used parts accumulated over the years. Recently we have been able to acquire a lot of used parts for the "just in case day" — I hope to never use them.

I have all the original owner's and workshop manuals, tool kit, jack, wheel wrench, Catalog B parts list (detailed) and the repair CD-ROM.

It is not a show car or garage queen; it is a solid driver. I drive it as much as possible from March to November. During the remainder of the year, it is not driven because of the salt conditions. I have a hidden CD player for music on trips. I have only taken it to a show once and it won a trophy for the best driver at the Mercedes-Benz Club of America (MBCA) event in Boston.

The car has served me well. I enjoy driving it very much and it gives me a great sense of freedom. I have driven the car 200 miles non-stop and it was just fine. My previous job was 56 miles each way against traffic and I enjoyed taking the car to work as often as possible.
---
1960 Mercedes-Benz Type W128 220SE Ponton coupé

In 2003, my wife and I were looking for another classic motoring challenge. Since I am a financial type, it did not take me too long to figure out that the Ponton coupés were a very good value for money and we also happened to like them a lot.

Also at the same time a number of coupés came on the market and we had a chance to look at them. We have traveled as far as California (we are from Massachusetts) to check out prospective vehicles.

Then in October 2003, along comes a coupé advertised in Hemming's Motor News and located in Pennsylvania. A quick call indicated that the car was a California car bought by the advertiser as part of a collection, but he had no desire for this car and owned it for a few months and had not driven it. He was more interested in the other cars he purchased in the collection.

We drove down to Pennsylvania and checked out the rare 220SE fuel-injected Ponton coupé. It was solid — with no rust, but had a few parts that need to be re-assembled. Everything else checked out well. We low-balled the price and the owner to deliver the car in an enclosed trailer the next day. I guess we got lucky.
We did some research and discovered it was manufactured in October, 1959 and originally ordered by the Brazilian government in Brazil for delivery in December, 1960 to the USA as a U.S. spec. car for use by the consulate in Los Angeles. Its original color was DB190 Graphite Grey, with a red interior; just the combination for a diplomatic mission.

The car was purchased after a few years by a woman from La Jolla, California; she owned it for almost 20 years. Then it was purchased by a serious Mercedes-Benz collector in La Jolla, California and kept in an aircraft hangar since the owner was a pilot. This owner changed the color to Mercedes-Benz DB50 (White), refurbished the engine, and restored the interior and wood. He also changed the car from a Hydrak automatic clutch to a standard transmission. Some of the chrome had also been redone. It is in very good condition but I would regard it as a good driver. Just the way I like it.

We checked with the original build sheet from DBAG. All the numbers checked out. We are in contact with the previous California owner, and he has been helpful in providing details on the history and the maintenance.

The car has been well maintained, and has never been in a collision. It was pretty much garage kept. We went through the car in the spring of 2004 to make sure everything was in order. I replaced the entire brake system including the brake booster. The injection system has worked flawlessly; seems it was restored just before we bought it. After we purchased it, we found it would pop out of the fourth gear occasionally. We therefore changed the entire transmission and now the car drives well and strong. We have also replaced all the rubber in the suspension and the springs and shock absorbers. Otherwise everything seems to work well. It is annoying that the previous owner replaced the leather seats with vinyl. Oh well, we will have to live with it for a while.

Through some coincidence we have been able to acquire the following parts for the coupé:

Set of interior wood
Set of exterior chrome (excluding a bumper piece)
Doors, hood and trunk
Engine with fuel-injection system

This makes us feel comfortable as we enjoy the vehicle.

We have also been able to acquire a complete sunroof system from a coupé that was being junked. At some point we plan to graft the sunroof on to our car. This option is extremely rare and would make the car more comfortable on hot days.

Another option we acquired is a pair of original headrests for both this car and the 1959 220S cabriolet. I believe we only have one set of mounting brackets but have not yet installed it. The coupé is maintained as a daily driver and not a show car.

My neighbor has a 1959 220SE cabriolet that he has owned since 1961. The car is also a good driver but he does not drive it much. I always needle him to have it restored. He has no such desire. We do share experiences. Based on the identification numbers, his car is one number ahead of mine. So both of our cars were on the assembly line at the same time and reunited all these years later.
---
1959 Mercedes-Benz Type W180 220S Ponton cabriolet
In 2010, we had an opportunity to purchase a 1959 220S Ponton convertible through renowned restorer, Henry Magno. The car had 58,000 original miles, the original Hydrak automatic clutch system, and was right here in Massachusetts waiting for its next caretaker.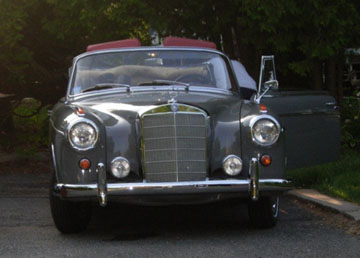 The car was manufactured in April 1959 with a black exterior and a red interior and was originally purchased by an insurance executive in New Jersey.

In the early 1970s, it was purchased by the Kaplan family and used as a weekend vehicle. It saw service in Florida for a number of years when the family vacationed during the winter.

In the early 1980s, the family did a partial restoration that included mostly body work. The restoration was done by Paul Russell, the legendary restorer of exquisite cars.

The vehicles exterior color was changed to a pleasant and period-correct slate gray, and continues to be in excellent shape. The original interior is excellent and original. However after so much time, the seats are a bit worn. The top is in excellent condition. The car was passed down to different family members after the 1980s restoration but was used infrequently afterwards.
In 2009, after the death of its most recent family owner, and since it sat for a number of years with little use, the next family member decided to bring it back to mechanically drivable condition. It was sent back to Paul Russell, and the entire fuel system from and including the tank to the carburetors were restored. We thereafter purchased the vehicle knowing full well that the compression in one cylinder was a bit low. Our mechanic suggested that we not bother with it especially since it is such a low mileage car, and the lower compression was acceptable. So far it has not given us any problems.
We have restored the entire brake system, partially restored the Hydrak system, and addressed a bunch of long-term maintenance issues. The Ponton cabriolet is remarkably original and solid, and a great pleasure to drive. It tracks well and it also has the Pertronix electronic ignition system. The Hydrak automatic clutch does need a special touch, but is quite reliable.
This vintage Mercedes-Benz is the favorite of our six year old son. Our family enjoys all three Pontons. I wonder which one is my favorite?
---
Full Collection / Last Update: January 4, 2022
1955 220a (W180), 1959 220S cabriolet with Hydrak (W180), 1959 220SE cabriolet (W128), 2001 Porsche 911 Carrera cabriolet, 2007 Mercedes-Benz C350 sedan (W203), 2009 Mercedes-Benz AMG CLS 63 (C219), 2014 Mercedes-Benz AMG E 63 (W212), 2018 Mercedes-Benz AMG GLC 43 (C253), 2019 Mercedes-Benz Sprinter "dually" (dual rear wheels) long wheelbase diesel, 1959 Ford Jubilee tractor, 1970s Ford 3600 diesel tractor, 1940s Farmall B, 1960s Massey Ferguson 135 tractor, numerous modern Kubota and John Deere tractors, RTV utility vehicles, etc. We like the Pontons much better—they have a soul.
---
Created: February 15, 2004 / Jeff Miller / © www.mbzponton.org
---
Return to the Main Photo Gallery
Return to the Type 220a/220S Photo Gallery
Return to the Type 220SE Photo Gallery
---