1958 Mercedes-Benz 220S Ponton
Craig Semple / aegeanfoods@gmail.com / Sydney, Australia
---
---
1958 Type W180 220S Ponton sedan
129,000 miles
Hydrak automatic clutch
Color code: DB 218 (light green)
Upholstery code: 141 – unable to find any reference to this code, but it is red MB-Tex (vinyl), with a bench seat.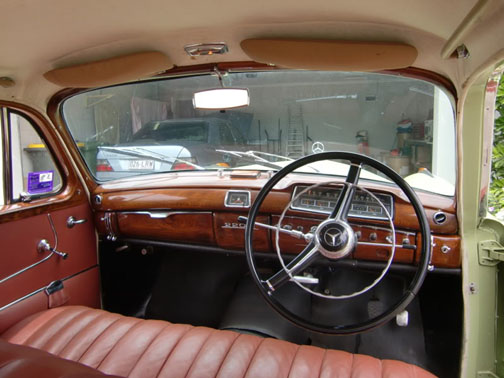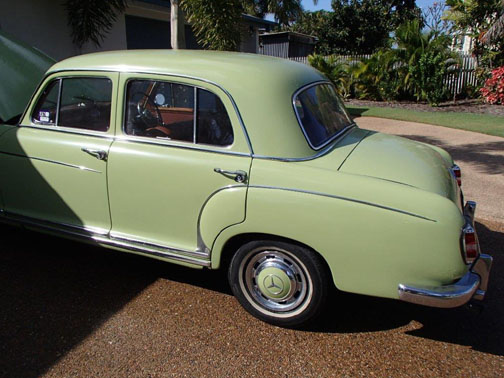 ---
Karl Baisch Fitted Luggage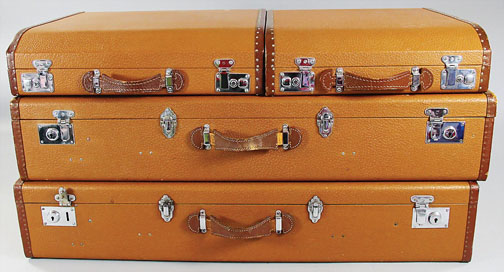 Fitted luggage by Karl Baisch Autokofferfabrik of Stuttgart - Bad Cannstatt. It looks as though it is unused. Just a few scuff marks. The luggage goes with my 1951 Type 170S (W136 IV), which is still a project.
---
1951 Mercedes-Benz Type 170S (W136 IV)
---
Another 1958 Mercedes-Benz 220S Hydrak
1958 220S with Hydrak automatic clutch
1958 Type W180 220S Ponton sedan
101,000 miles
Hydrak automatic clutch
Color code: DB 157G (grey beige)
Upholstery: red leather
This 1958 220S also has a Hydrak automatic clutch. I am the second owner. The first owner (now deceased) drove the car from new until 2002. It has done 101,000 miles and is in fairly original condition.  I believe it was repainted at some time — in the original DB 157G (grey beige). The interior is original red leather, with no rips or any major marks. It was supplied with all the original books, and sales brochures. 

Kind Regards,
Craig Semple
---
Created: September 26, 2013 / Jeff Miller
© www.mbzponton.org
---
Return to the Type 220S Photo Gallery
Return to the Main Photo Gallery
---