Mercedes-Benz Ponton
Color Charts & Paint Codes
Related Pages: Advertisements // Brochures & Pamphlets
---
---
Original Paint Suppliers [1]
Glasurit and Dr. Herbert (see Links page) were the two companies that supplied paint to Daimler-Benz at the time the Pontons were being made. The codes for these manufacturers are the letters G and H. For example, if your car has a paint (Lackierung) code of "DB 40 G", that means the (Daimler-Benz) color is black (040), and Glasurit was the original paint supplier.
---
Original Mercedes-Benz Color Charts [1a]
Mercedes-Benz
Standard Appointment
180 - 180D - 190 - 219 - 220S cabriolet / coupé - 300
---
Mercedes-Benz
Special one and two-tone special paint finish
with standard upholstery
180 - 180D - 190 - 219 - 220S

---
---
Color Codes for Type W121 190SL Roadster
Job Aid (.pdf) is a compilation of research from many sources. The colors selected are based upon the 190SL Newsletter, (all years), various technical sessions, research into original 190s, and various discussions with knowledgeable vendors and members. Your comments, suggestions, and additions/changes are always appreciated. The intent here is not to set a standard, but rather, share with the reader our experiences. Color at your own risk. I have organized the material as a table, using the Mercedes-Benz Type 190SL – Spare Parts List, Edition D as my point of reference for the item number and description. If the part was mentioned in a Newsletter article, I included that page number for a cross-reference.

Bruce L. Adams
www.bruceadams190sl.com

Job Aid added December 10, 2009
---
Colors of Miscellaneous Ponton Sub-Assemblies [2]
Refer to the Ponton Literature page for books on Mercedes-Benz 190SL Restoration and Ownership by Bruce Adams. They include information about the colors of most assemblies and sub-assemblies on the W121 190SL. Many of the colors also apply to the Ponton sedans, coupés and cabriolets.
---
Mercedes-Benz Ponton Color Chart Pamphlet [3]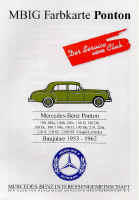 ---
Two-shade Special Paintwork Color Charts [4]
---
What is the Color Inside the Hubcaps and Bumpers? [5]
The color of the paint originally used on the inside of the Mercedes-Benz Ponton hubcaps matched the paint used on the inside of the bumpers. It is a light cream color (see photo above, and the paint chart below) known as DB 158 "White Gray." An automotive paint store will be able to mix small amounts of DB 158 for the purpose of painting these areas on the car. Note that (as of this writing) there are very close approximations available. The brand "Rustoleum" has a color called "Almond", which is a close match. The brand "Krylon" also has a close match.
---
Inside of Wheel Rim: DB 268 "Blaugrun" (Blue-Green)
Underbody: DB 169 "Steingrau Hell" (Stone-Gray Light)
MB Ponton Underbody and Wheel Colors.pdf
---
Inside of Bumper Guard: DB 158 "Weisgrau" (White-Gray)
This is a NOS bumper guard for a 1958 Type 180a sedan. The inside is painted DB 158 White Gray color code. Note the date stamp. [12]
---
All four-cylinder Ponton sedans, the 190SL, the 300SL, and the Type 219 Ponton sedan got small wheel covers/hubcaps, and the outside of the wheels were body color in gloss. The Types 220a, 220S, and 220SE of all Ponton body styles got full wheel covers with the outside of wheels in black gloss paint regardless of the body color. [6]
---
Painting Mercedes-Benz Hubcaps
Original style hubcap masks are no longer available from Mercedes-Benz.

How to Paint Mercedes-Benz Hubcaps (I / brief) [7]

Here are some tips for masking off the hubcap stars, and outer rings, in preparation for paint. Start with a clean hubcap. Artist supply and paint specialty stores sell thin, flexible masking tape. For masking the star itself, the width of the tape should be about 3 mm. A wider, flexible tape (for following contours) is recommended to mask off the larger outside edge of the cap. Automotive paint stores will mix enough of your specific color to put in spray cans for small jobs like this. Results may not be absolutely perfect, but the hubcaps will look quite presentable. The job of masking off the stars and using a small, precise hobbyist "Exacto" knife to trim the excess tape becomes tedious after the first hubcap. Once you have the materials (tape, knife, paint) the whole process takes about 1.0 to 1.5 hours. The secret is to remove the tape while the paint is still wet.
---
How to Paint Mercedes-Benz Hubcaps (II / detailed) [8]

Many Mercedes-Benz drivers, or at least the ones here in Holland, seem to be reluctant to take on the task of repainting hubcaps that don't look good anymore. Often you can see them driving around with the paint stripped off completely or scratched and dented on an otherwise good looking car. And its such an easy job to do!

I'm restoring a 1963 W112 300SE Heckflosse sedan, the successor of your wonderful Pontons, but as they have basically the same hubcaps this shouldn't be a problem.

After a pointless search for factory made masks which apparently used to exist according to sources older and wiser than I am, I decided to give it a go in the make-shift way I described below, knowing that if it failed I would have to drive around in those dreaded "naked" hubs...b-r-r-r.

Obviously, you start with stripping off the old paint which is extremely easy using paint stripper from an ordinary hardware store. I smeared it on in a thick layer and then packed it in plastic foil leaving it to rest for the night. After that, it was easy to strip the paint off using an old fashioned razor blade. Be careful when using this. The chrome is very hard but will scratch if you're not careful.

On the stripped hubs you can make a paint mask using ordinary paper tape from a paint store. Stick it on covering a wide area around the bits that need to be blank. Take your time sticking it on well, especially in all those little corners which form the star in the middle.

After that, you take a sharp hobby knife (I used a surgeon's scalpel with a straight blade because it's a bit sharper). With that, you cut along the edges of the bits you want to keep blank. Even if you do this carefully, it will not go absolutely straight in every place but don't worry; afterwards it will be hard to notice those bits (especially because few people will inspect their hubs from ten centimeter's distance once they are fixed on the car).

Then, you gently take of all the tape still covering the bits you want to paint and presto, you're ready to spray them.

At any paint store they will sell you a primer that will stick to chrome. I sprayed it on in three thin layers, sanding each layer lightly with 800 grain paper. the sanding is really necessary after each layer of paint unless you do it in a dust free environment. You'd be amazed at the amount of tiny stuff that sticks on there even in a clean room. Another trick is to use a large cardboard box to cover them after spraying but that won't prevent those little dust thingies to still find their way to your wonderful paint job in rather large numbers.

After the priming comes the paint which I sprayed on in four to five thin layers giving them a day to rest before sanding them and covering them with the next coat of paint. Because all original factory paints are so well documented by Mercedes, most paint stores will be able to mix you a spray-can of the right colour for your car. Spray it on in a moderately warm room (20 degrees Celsius or so), this will help the paint spread nicely and evenly over the surface.

Make sure you try to keep sticking the tape back in place. As the glue on the tape tends to dissolve in any form of moisture the paint will also do this leaving the edges of your mask curling up. I haven't been able to completely prevent this but if you have a close look at a factory set of hubs; neither have the boys in Stuttgart.

Last stage in this repair is taking off the tape. Don't wait with this until the paint has dried too much because this will make it harder to get the tape off.

The real puritan will now use his sharp knife to take of those little bits that still got underneath the tape here and there, but otherwise you will be in the possession of a set of really nice looking hubcaps!

Then start dreading the day when you chip a sidewalk when parking.
---
A 13" hubcap from a Mercedes-Benz Type W180 220S Ponton sedan with DB125 Pearl Gray paint [10]
---
Ponton Paint Codes [9]
The information below was taken from a Martin Senour paint chip sheet. "These color chips are for identification purposes. They may not be exact matches for the actual colors as they appear on the cars." The paint was available in Acrylic, Lacquer or Enamel.

Example
DB50 = Daimler-Benz color code number
WHITE = color name
58-61 = years the color was used

Click the color charts to view the codes more legibly. Note that the larger color charts have a significantly different color balance than the smaller ones. The smaller charts are believed to be closer to original.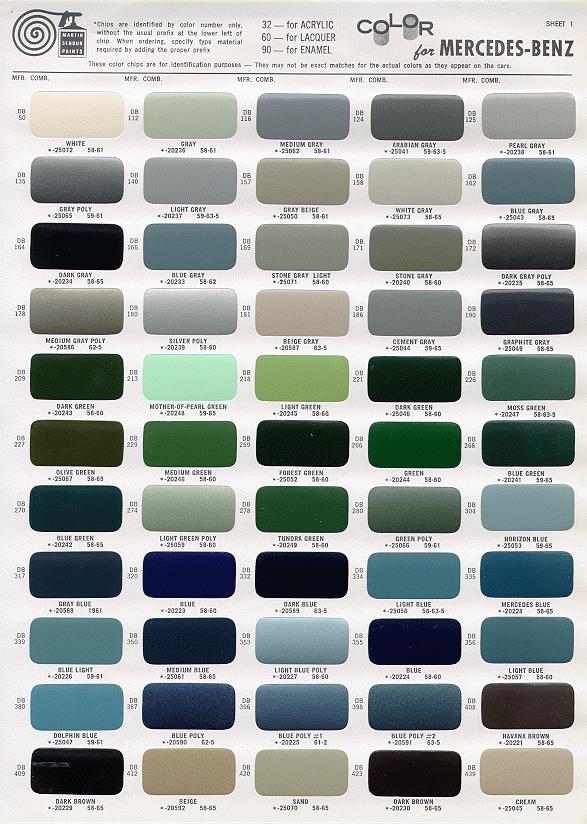 DB50
White
58-61
DB112
Gray
58-61
DB116
Medium Gray
58-61
DB124
Arabian Gray
59-63-5
DB125
Pearl Gray
58-61
DB135
Gray Poly
59-61
DB140
Light Gray
59-63-5
DB157
Gray Beige
58-61
DB158
White Gray
58-65
DB162
Blue Gray
58-65
DB164
Dark Gray
58-65
DB166
Blue Gray
58-62
DB169
Stone Gray Light
58-60
DB171
Stone Gray
58-60
DB172
Dark Gray Poly
58-65
DB178
Medium Gray Poly
62-65
DB180
Silver Poly
58-60
DB181
Beige Gray
63-5
DB186
Cement Gray
59-65
DB190
Graphite Gray
58-65
DB209
Dark Green
58-60
DB213
Mother of Pearl Green
59-65
DB218
Light Green
58-60
DB221
Dark Green
58-60
DB226
Moss Green
58-63-5
DB227
Olive Green
58-65
DB229
Medium Green
58-60
DB259
Forest Green
58-60
DB266
Green
58-60
DB268
Blue Green
59-65
DB270
Blue Green
58-65
DB274
Light Green Poly
58-60
DB278
Tundra Green
58-60
DB280
Green Poly
59-61
DB304
Horizon Blue
59-65
DB317
Gray Blue
1961
DB320
Blue
58-60
DB332
Dark Blue
63-5
DB334
Light Blue
58-63-5
DB335
Mercedes Blue
58-65
DB339
Blue Light
59-61
DB350
Medium Blue
58-65
DB353
Light Blue Poly
58-60
DB355
Blue
58-60
DB356
Light Blue
58-60
DB380
Dolphin Blue
59-61
DB387
Blue Poly
62-5
DB396
Blue Poly #1
61-2
DB396
Blue Poly #2
63-5
DB408
Havana Brown
58-65
DB409
Dark Brown
58-65
DB412
beige
58-65
DB420
Sand
58-65
DB423
Dark Brown
58-65
DB439
Cream
58-65
---
DB441
Light Fawn
58-65
DB442
Medium Brown
58-61
DB453
Light Beige
63-5
DB460
Dark Red-Brown
61-5
DB461
Dark Bronze Poly
62-3-5
DB462
Tunis Beige Poly
62-5
DB463
Copper Poly
62-5
DB506
Reddish Brown
58-61
DB516
Medium Red
58-63-65
DB519
Red
58-65
DB526
Mercedes Red
58-60
DB534
Fire Engine Red
58-60
DB538
Red
58-61
DB543
Strawberry Red Poly
58-60
DB554
Cherry Red
62-65
DB567
Glazing Maroon Poly
62-5
DB568
Signal Red
63-5
DB571
Red Poly
62-5
DB573
Dark Bordeaux Red
63-5
DB608
Ivory
62-5
DB615
Ivory
62-5
DB620
Ivory
62-5
DB629
Cream
62-5
DB630
Yellow
62-5
DB658
Light Ebony
59-65
DB670
Ivory
63-5
DB716
Gray Beige
59-65
DB717
Papyrus White
61-5
DB824
Sea Green
59-65
DB834
Moss Green Poly
62-5
---
Standard Upholstery Brochure [11]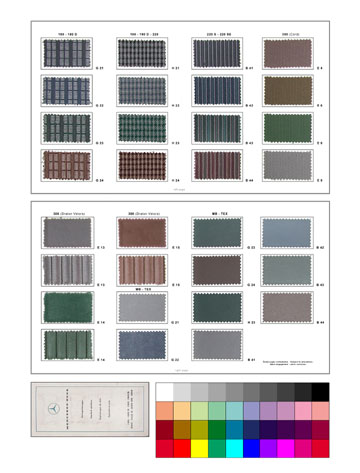 ---
Footnotes
[1] Courtesy: Jeff Miller / Spring 2002
[1a] Courtesy: Chris Macha / December 24, 2005
[2] Courtesy: Jeff Miller / January 24, 2015
[3] Courtesy: Helu Hansen / © Mercedes-Benz IG / June 12, 2002
[4] Courtesy: Len Sokoloff / August 30, 2001
[5] Courtesy: Jeff Miller / August 7, 2002
[6] Courtesy: Doug Broome / March 22, 2005
[7] Courtesy: Jeff Miller / May 3, 2003
[8] Courtesy: Jeroen van Kesteren / jeroen@ap6.nl / Holland / October 3, 2003
[9] Courtesy: Ray Ilich / August 15, 1997
[10] Courtesy: Alex / France / December 12, 2006
[11] Courtesy: Erwin Hanke and Lenna Winther-Saxe / June 6, 2010
[12] Courtesy: Prithvi Tagore / 1958 180a / Calcutta, India / October 23, 2015
---
© www.mbzponton.org
---
Return to the Mercedes Ponton page
---