1958 Mercedes-Benz 190SL Restoration
Geoff Hall / geoff@h2minc.com
Toronto, Ontario, Canada
---
---
I am unsure at what point the head lights were modified. When I stripped the eight or so layers of paint off the car it looked to have been done between the first and second repaints. It is a headlight setup from a Porsche Type 356 and was installed very well, so I chose to leave it as is and see if I could find the story behind it. Still searching.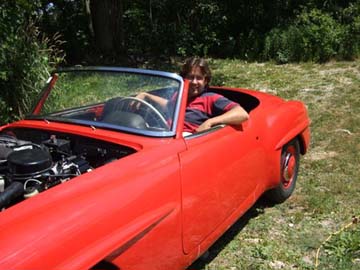 Best Regards,
Geoff Hall
Toronto, Ontario, Canada
September 14, 2007
---
Restoration Complete!
Final photographs submitted June 2, 2009
---
Created: September 23, 2007 / Jeff Miller
© www.mbzponton.org
---
Return to the Type 190SL Photo Gallery

Return to the Main Photo Gallery
---