Mercedes-Benz Pontonobilia
Miscellaneous
Pon'-ton-o-bil'-ia: n. 1. An object, most often a scaled representation of a Mercedes-Benz Ponton. Also includes any other Ponton minutia suitable for a collection.

Related page: Mercedes-Benz Ponton Artwork
---
---
Passion 43ème article on obsolete 1:43 scale Ponton models
By Thierry Redempt with photos by Pierre Ferrer
Dear Jeff,

Here is a paper we wrote with Thierry Redempt – concerning obsolete 1:43 scale Pontons. It was published in Passion 43ème in 2010.

Kind regards,

Pierre Ferrer
June 25, 2014
---
Postage stamp from Maldives featuring a 1958 Mercedes-Benz Type W128 220SE Ponton coupé. Maldives is an Indian Ocean archipelago that won independence from the British in 1965.
---
"Pull over, George, and straighten the star." Who is the cartoonist? Contact the editor.
---
Collector wine, "Ponton Trocken" — 1989 Rheingau Riesling (1,000 bottles made in 1989)
Courtesy: Karl L. Horst / December 11, 2008
---
Hans Liska illustration including a four cylinder Mercedes-Benz Ponton model
---
Painting (watercolor) including Mercedes-Benz Ponton and Roman statue by Hans Liska
---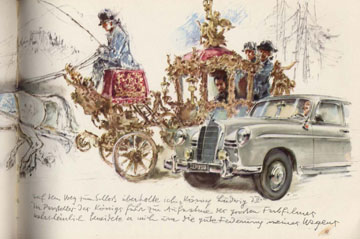 Painting (watercolor) including a Mercedes-Benz Ponton by Hans Liska
---
Framed print of a watercolor by Hans Liska including two Mercedes-Benz Ponton six cylinder models
The print was a gift from Bob Gunthorp
---
Advertisement for Motorola "portable" record player. Young student shown with Mercedes-Benz Type 190SL roadster.
---
ADAC Motorwelt Afrika (circa 1959) with Mercedes-Benz Type 180b Ponton sedan
---
Mercedes-Benz In Aller Welt / Issue Nr. 32
---
Full Speed cigarette box featuring Mercedes-Benz Ponton cabriolet
---
Mechanix Illustrated (1954) tests the new 1954 Mercedes-Benz Type W120 180 Ponton sedan
---
Paulig coffee drink coaster with Type 180 Ponton sedan
Örn Sigurðsson of Iceland surmises: "I would guess that this was part of a coffee package from the 1950s, made and sold by the Paulig Coffee Company of Finland. Probably a card included in the package. In Finland they speak both Finish and Swedish, therefore both of these languages are on the card. On the top you see the Swedish text "Allmänt varningsmärke", which means "general warning traffic sign." So this card has a certain traffic sign and a certain car brand, and they probably produced other cards with different signs and cars. Food producers did this here in Iceland too, using pictures of different waterfalls, etc. into chocolate bars, cigarette packages, etc. — even though I don't think they ever used a Mercedes-Benz Ponton like Paulig. (Gott kaffe allesedan 1876 = Good coffee since 1876)."
---
Science and Mechanics magazine (August 1959) featuring Mercedes-Benz Ponton diesel. The subtitle states, "10,000 Miles on $85 Worth of Fuel."
---
Radio SWL (Short Wave Listener) QSL (confirmation) card
Radio QSL card featuring a Mercedes-Benz Ponton sedan. The station sent this to the listener as a verification of a reception report.
Courtesy: Dominique Muschong / Germany / December 24, 2008
---
French magazine Retro Viseur featuring Mercedes-Benz Ponton cabriolet on cover
---
1957 Mercedes-Benz Type 190 Ponton sedan
Illustration courtesy: Jeff Miller circa 1993
---
Ace mechanic "Fritz Teulholder." Not much of a talker, but knows how to fix a broken Mercedes fast! 
Photo courtesy: Jeff Miller / August 30, 2003
---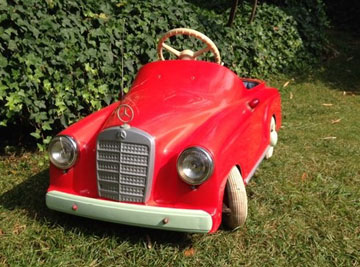 Ferbedo (Germany) Mercedes-Benz pedal car
Photos uploaded July 9, 2014
The pedal car here is a rare example built by Ferbedo during the 1950s, taking the main features of the Mercedes-Benz Types 180, 190, 219, 220, 220S, 220SE, and 300 of the era. Ferbedo is a well known German company that made one of the most beautiful pedal cars of its time. The well loved Mercedes-Benz 190SL being their most famous creation. The pedal car presented here is one of the rarest models of Ferbedo, and was featured on the cover of the 1961 Ferbedo catalogue. Built on a metal chassis, equipped with four tires with inflatable air chambers, the body is made of quality plastic. The car is equipped with front and rear lights, as well as working indicators and a horn – the latter powered by batteries. The steering wheel fitted on this Ferbedo is an exact reproduction of those on most Mercedes-Benz of the period. Other noteworthy features include a telescopic radio antenna, an adjustable seat, and a trunk, which can be opened.
---
Mercedes-Benz Pontonobilia
Created: June 20, 2001 / Jeff Miller
Last Update: March 17, 2015
© www.mbzponton.org
---
Return to the Ponton Photo Gallery
Return to the Pontonobilia page
---