Two Dinky UNIMOG 804 models and original camouflage netting. Boxes – left to right: 804 camouflage (original), 821 no camouflage (original), 804 camouflage (reproduction). These models originally came with camouflage netting. This photo includes the only example of the netting the editor had seen up to this point. Photo courtesy: Jeff Miller / iPhone 6 / December 17, 2014

The reason for taking the photo was the non-camouflage box was a new addition to The Closeum. The UNIMOG with the netting (goes with box at far left) was procured at the York, Pennsylvania toy show November 30, 2014. Didn't realize how dusty the 'Mog on the left was until seeing the photo.

The quest then shifted to developing a win-the-future strategy by engineering a right-sized framework to spearhead a data-driven integration of a pre-1973 "821" example to successfully fill the empty, non-camouflage box.
Dinky UNIMOG 804 (released 1973) with home-made camouflage net based on original pattern
Photo courtesy: Jeff Miller / iPhone 6 / January 4, 2015
Home-made camouflage net. This project took longer than expected due to delays sourcing a suitable size thread to fit inside the back of the carrier. This was the second attempt. The first thread was too bulky, and would not compress small enough.
---
Pontonobilia Detectives: There were several variations in the packaging.
Dinky 821/804 UNIMOG Box Evolution




Dinky 821/804 box photos compiled and uploaded December 27, 2014

Position
Model
Evolution
Description
Lettering
Graphics
Left
821
early
orange-yellow box
large red lettering
no illustration
Center
821
later
bright yellow box
small red and black lettering
plain olive drab vehicle illustration
Right
804
1973 onward
bright yellow box
small red and black lettering
olive drab vehicle illustration with yellow highlights
---
Original Dinky (France) model 567 1:43 scale die-cast UNIMOG Type 404S troop carrier with snow plow
This French Dinky model was originally released in 1967.
---
Original (Meccano/France) Dinky model 567
1:43 scale die-cast UNIMOG Type 404S troop carrier with "chasse-neige" (snow plow)
The black canopy on this example is a reproduction.
Tires may not be original (compare with the spare underneath).
Photos: Jeff Miller / May 7, 2018 / iPhone 7
---
Reproduction of Dinky model 567 1:43 scale die-cast UNIMOG Type 404S troop carrier with "chasse-neige" (snow plow)
Reproduction (Atlas/Mattel/China) / Photos: Jeff Miller / August 16, 2017 / iPhone 7
The reproduction is faithful to the original, including the box.
Reproduction (Atlas/Mattel/China) Dinky model 567
Courtesy: Jeff Miller / January 25, 2018 / iPhone 7
---
Ponton era LKW (Lastkraftwagen = truck) made by Kellerman (Germany). This model represents one of the many LP-series LKWs that were made by Daimler-Benz during the 1953-1962 time-frame. Kellerman was founded in Nuremberg in 1910 and went out of business in 1979. Kellerman is sometimes referred to by the name, "CKO" or "CKO Toys" because of their trade mark logo.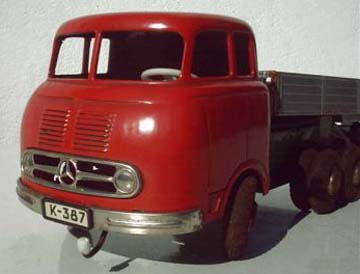 The Kellerman "CKO" trade mark logo is embossed on the base plate. Also note the "D.B.G.M." (Deutsches Bundes Gebrauchs).
---
Kellerman (Germany) tinplate Mercedes-Benz "LKW" (truck) made in the 1950s. This one suffers from what appears to be normal wear and tear.  The truck is in "played with" condition, and so it should be — these toys were never bought as investments, they were given to young lads to enjoy!  Maybe this toy helped launch a career in construction, engineering, mechanical repair, or even toy design. One thing is for sure. This model will get you hooked on Mercedes-Benz trucks.

Based on the photo, I originally thought this model was perhaps 1:18 scale, but I saw the real thing for sale in Macungie, Pennsylvania on August 6, 2005, and it was much smaller. In actual fact, it was about 1:43 scale.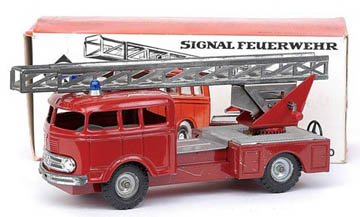 Kellerman model number 410. Mercedes-Benz fire truck with rotating extension ladder. Red, with plated decking, extension ladder, and friction drive. Approximately 1:43 scale.
---
Kellerman model number 381 – Mercedes-Benz Coach. Mint condition with original packaging. As previously mentioned on this page, a model such as this can be worth quite a bit when the scarcity is factored into the equation. This model has a lot going for it. Note the Kellerman trade mark "CKO" logo on the end of the box.
---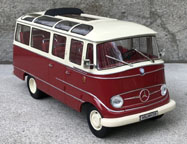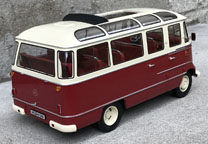 Norev (France) 1/18 scale Type O319 bus

Photos uploaded December 14, 2018
---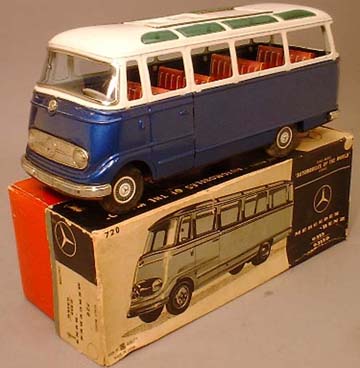 This is obviously not a Ponton model, but it is a passenger vehicle made by Mercedes-Benz during the Ponton era. This is a Bandai (Japan) tinplate model of the Type O319 bus. Model number 720 in the Bandai tinplate series. The O is for Oël Motor (diesel). Roughly 1:18 scale.
This view accentuates the sliding sunroof made for the passengers on their journey to...Lilliput, perhaps.  The first Type O319 minibus was presented by Daimler-Benz in 1956.
---
Dinky model 541 (1:43 scale) was released in 1963. Made in France, and modeled after the Mercedes-Benz Type 319 utility van and passenger bus. The real Type 319 was made from 1956 until into the early 1960s, which includes it in the Ponton era. The window configuration of this mini bus indicates the primary function was to carry passengers. They were common as airport shuttles at the time. This model includes a suspension, windows and interior fittings. Photo courtesy: Jeff Miller / Nikon Coolpix 990 / summer 2001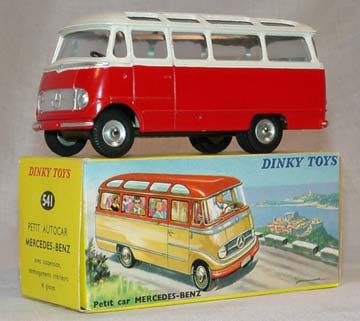 Another photo of Dinky model number 541 with the original box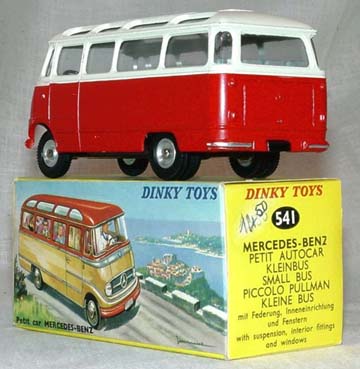 The value of the model increases a great deal when it is in mint condition, and includes the original packaging. Note the dual rear wheels.
---
Dinky 541-H Mercedes-Benz Type 319 small bus
Swiss Postal Telegraph and Telephone (PTT) livery
Photo uploaded December 14, 2018
Variation of Dinky 541 – Swiss PTT livery. Original, French-made examples in this color combination are rare. Allegedly, Dinky produced them in 1963, but only three are known to still exist! This is a reproduction made by Dinky Atlas (China). Note the illustration on the box looks more like the Swiss PTT (yellow body) than the more common version with the red body and white roof.

If you can validate whether or not Dinky (France) actually made this Swiss variation in 1963, or if you have any facts about the existance of an original French Dinky version of this model, please contact the editor.
---
LGB 40104 / Deutsche Reichsbahn (DR / East Germany) gondola with Mercedes-Benz Type 319 Schenker van/p>
---
This is a 1:43 scale Type L319D truck with a removable tarp over the cargo bed. The L319D was a speedy forward-control (i.e. "cab over", no extended engine hood) light duty delivery vehicle, which had a payload of 1.75 tonnes. Introduced in 1956, it was part of the second phase of Daimler-Benz postwar truck development. It carried DB through the early 1960s in the light van class and offered either a 68-bhp gasoline engine or a 50-bhp diesel.
Hartwig Mueller of Dortmund, Germany recalls the full scale vehicle from his days as a Mercedes-Benz salesman in Bremerhaven:

This special blue-grey "Pritsche" (meaning "Pick Up") would have belonged to the "factory fleet" of Daimler-Benz Untertuerkheim during the late 1950s and early 1960s showing the corporate identity of the vehicle. This scale model was still available (as of June 5, 2005) through authorized Mercedes-Benz agents. The L319 was produced in Sindelfingen where the passenger vehicles were made. Following an invitation, I had the chance to visit the manufacturing facility of this nice little truck, belonging in Germany to the category of "Eindreivierteltonner": "One and three quarter tons vehicle." It really moved almost like a normal passenger car and had all goodies of our sedans like Kugelumlauflenkung, shifting from the steering wheel, soft connection between engine and chassis (the famous sub-frame or so called, "Fahrschemel"), same steering wheel, same gear shift, almost the same pedals and very good characteristics on the road. A problem: The diesel engines had very little power, yet I never noticed anybody buying a "Benziner" meaning, "gasoline engine."

Editor's note: According to Mercedes-Benz Classic magazine (Issue: 2-2004) 6% of the Type 319 trucks were non-diesel.
This handsome 1:43 scale model was sold through an authorized Mercedes-Benz agent (in Dortmund-Unna Germany) and was manufactured by "Premium ClassiXX" (sic). Photos and text courtesy: Hartwig Mueller June 5, 2005
---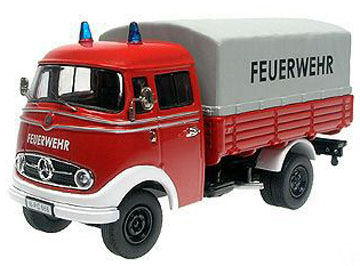 Mercedes-Benz Type L319 Kasten / box van, "fire-brigade." Produced by NZG / Premium ClassiXX at 1:50 scale. NZG model number 11054. The brilliance of the Daimler-Benz design is seen by comparing this model to the photos of the blue-grey Type L319D "Pritsche" (pick up) provided by Hartwig Mueller. These vehicles were designed on a single platform, which could be called into any number of configurations depending on the customer's wishes. The most significant option came from the catalog of Daimler-Benz engines with a wide range of power outputs. Versatility was the name of the game.
---
Schuco Piccolo 742

A Mercedes-Benz LKW (articulated tractor-trailer) of the Ponton era.  This is model 742 in the Schuco Piccolo range, and probably represents a Type LP-321 lorry. A tiny (1:90 scale) solid die-cast truck makes a nice addition to any scale model collection.  Photo courtesy: Jeff Miller / Nikon Coolpix 990 / June 5, 2004
---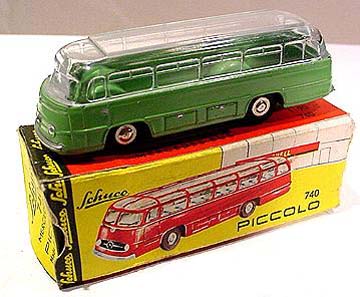 Schuco Piccolo 740
Model number 740 in the Schuco Piccolo (1:90 scale) series. A Ponton era Mercedes-Benz coach. The prototype for this model was the Type O 321H "Omnibus." This particular example is missing the interior seats.
Schuco Piccolo 740
Color variation on the Schuco Piccolo number 740 Mercedes-Benz coach
---
Schuco "Modell" series (1:125) Nr. 317 900 / Mercedes-Benz O 321H Omnibus / Introduced 1971
---
Schuco Piccolo 740 / Mercedes-Benz Type LP-321 – variation with Shell tanker trailer
---
Heras package number 2070 — "Modellstrassenfahrzeuge"
Notice the large three pointed star in the center of the grille on the illustration. Neither the prototype (Mercedes-Benz Type O 6600 H "Omnibus") or the Heras model includes this detail. This is known as "full artistic control – run amok." Purists typically scorn such blatant deviations from reality!
This bus is at the center of the Heras package number 2070 "Modellstrassenfahrzeuge." It includes this motorized, 1:87 scale Mercedes-Benz coach and eight sections of track.  A nice detail is the luggage roof rack at the rear.  The base plate reads, "HERAS Made in Germany Nr. 1070."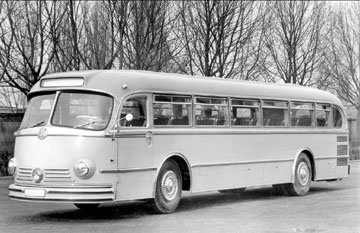 Mercedes-Benz Type O 6600 H "Omnibus"
The HERAS model may have been influenced by the Mercedes-Benz Type O6600H "Omnibus" produced by Daimler-Benz starting in 1951.
Mercedes-Benz Type O 6600 H "Omnibus"
The center of the grille on the prototype features a single fog light. The traditional, cloisonné style badge with three-pointed star is located higher up, under the windshield.
The Mercedes-Benz Type O 6600 H used a pioneering design, which placed the engine in the rear of the bus. This was a more efficient use of space and reduced the noise level in the interior.


1951 Type O 6600 H with pantograph

---
This Matchbox die-cast metal toy was made in 1965 by Lesney, in England. It is number 68, "Mercedes Coach." The turquoise color variation (known as "green" in the Matchbox reference guides) is rare, and boosts the value of this particular model by 10X over the later orange color variation. Approximate scale: 1:64.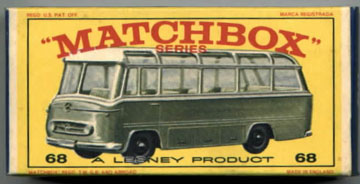 The box alone (illustrating the green Matchbox "Mercedes Coach") can be worth $20-$50 depending on condition, and who is shopping in the market.
Lesney (England) Matchbox model number 68 (of 75) "Mercedes Coach." The orange color variation is common.  The original Matchbox model (with green paint) was released by Lesney in 1965.
Lesney Matchbox # 68 – Mercedes Coach / Original Canadian blister pack artwork
---
Plastic model from Hong Kong looks like the same model Lesney used to make Matchbox #68
Packaging artwork. This example is from Hong Kong
---
Mercedes-Benz Type O 321 H "Omnibus"
I believe the prototype for Matchbox model 68 may have been the Mercedes-Benz Type O 321 H "Omnibus." The O 321 H was first produced in 1954 by Daimler-Benz in Mannheim. I am not yet 100% certain which full-scale bus the Matchbox model was made to represent, but by 1965, when Lesney first released the Matchbox model, Daimler-Benz was already using a more modern (angular) grille and body design on their buses, such as the Type O 302, which featured rectangular head lights.  Length of the Matchbox toy is 73 mm. The Type O 321 H bus was 9.2 m.  So the scale of the Matchbox is approximately 1:64. From Latin, "Omnibus" can be translated to: "transport for all." The Type O 321 H (where O = Oelmotor = diesel and H = heck = rear = rear engine) was the first Mercedes-Benz bus to have a self supporting (frameless) body.
---
Mercedes-Benz Type O 321 H Coach
It also has a rear engine, and hence a flat front. As a result, the interior is more spacious, comfortable and quiet because you are constantly "driving away from" the engine noise. Previously, buses were designed from existing truck platforms, which resulted in a louder, less comfortable ride. The O 321 H was designed from the outset as a comfortable riding coach including a custom suspension, which according to one brochure of the day allowed passengers to read a newspaper while in transit, an activity that would not have been possible with the earlier truck suspensions. The original O 321 H had a 5.1 liter, 110 hp diesel engine. Engine displacement and power were increased later, but not by much. Almost 30,000 units were sold until 1964. It was very popular in Europe, the Middle East, Africa and South America. Reference: Mercedes-Benz Classic magazine. Issue: 1-2003.

If any readers have more information about which bus model was used as inspiration for the Matchbox #68 "Mercedes Coach", please contact the editor at editor@mbzponton.org.
---


Corgi (England) model 1150 / Mercedes-Benz UNIMOG Type U406 with snow plow and canopy-covered plank bed (pritsche)
Some examples of this model have a dark green canopy.

Daimler-Benz began producing the Type U406 at the Gaggenau truck manufacturing plant in 1963.

Photo: Jeff Miller / December 23, 2014 / iPhone 6


---
Corgi (England) model 409 / Mercedes-Benz UNIMOG Type U406 Tipper
Corgi (England) model 409, "UNIMOG Tipper." A 1:43 scale die-cast model of a Mercedes-Benz UNIMOG Type U406 "tipper" (dump truck). Corgi made this toy from 1971 to 1975 and was modeled after the Type U406, which began production at Daimler-Benz (Gaggenau Works) in 1963. The photo illustrates how a model car collection can "grow on you." Original, pre-modified self-portrait of the editor taken December 1993.
---
Mercedes-Benz Pontonobilia
Created: June 20, 2001 / Jeff Miller
Last Update: December 14, 2018
© www.mbzponton.org
---
Return to the Ponton Photo Gallery
Return to the Pontonobilia page
---