Mercedes-Benz Ponton Clock Removal
Christopher Craig / 1957 Type W180 220S sedan
view the Clock Cleaning page
---
---
Here are a couple of photos you may be able to use in the "How To / Workshop" section. I thought I would snap these photos while the clock was out of the dash. Someone who never saw it out may have a hard time figuring out how it is mounted, but seeing the side springs should make it self-explanatory.
The shop manual says: Remove the center dash ashtray (on the 220S sedan). Reach in with your hand and compress the springs, then slide the clock forward, being careful not to catch the edges of the wood dash. Once the clock is loose from the dash, the wires can be disconnected and the light bulb socket can be pulled from its holder.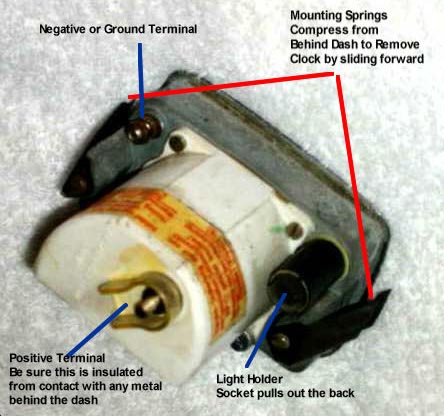 Refit is the reverse - attach wires and bulbs, slide in carefully and allow the springs to snap into place.
---
Christopher Craig / September 17, 2002
© www.mbzponton.org
---
Return to the Ponton Workshop page
---