Rich Sobieski's 1958 Mercedes-Benz
Type W105 219 Ponton sedan
Rich Sobieski / Clinton Township, Michigan

ry5zards0bi@wideopenwest.com
---
Well, I took the plunge and bought a 1958 Type 219 Ponton sedan. It was about 20 miles from home which made for a short drive. It only stalled out 4 times. Once, with no restart. My darling wife nudged me off the road with her van into a vacant lot. Got it restarted with no problem, and made it home. I guess the car was already establishing who was the alpha persona in this car-to-human relationship.
The interior appears to have been redone because the window and windshield trim was in the trunk. The Bakelite trim had been repainted Kona Brown, and I think the wood was re-varnished. But first things first. I did an oil change and used Castrol GTX 10W20 High Mileage, since the odometer read 05291, and I found a worn brake pedal pad in a plastic ziplock bag with the owner's manual. 100k miles? 200k miles? I think 100k, but it is hard to tell. Anyway, the filter was a poor substitute for specified, which was one cause of the dear thing embarrassing itself on my garage floor. New filter on order. A bit of leakage from the differential. Otherwise, it looks tight.

The ignition points got reset from a stingy .012" to 014." Plugs were fine. Lining up a dwell angle meter to refine. A carburetor rebuild (Solex 32 PAATJ) is a must. Need to find a kit - any help there would be appreciated. Arrived at this when I pulled cap off of the fuel pump to clean the strainer - there was none. The fuel line has a piece of tubing clamped in where I think a GF-1 might fit. Not original, but I need good filtration in lieu of the strainer. The body is not bad, though the work on it is rough, as is the paint job, but that can wait, as can the chrome.
This is my first "collector" car, and my restoring experience is nil. But for now, it's tinker and drive, tinker and drive. After the carburetor work will be a valve adjustment, then start working on climate control stuff like the notorious heater boxes. Then I need to track down or manufacture door and trunk gaskets as well as wiper blades. Again, any help there will be most welcome. The steering wheel is rough and I would like to replace it but it is low on the list or priorities at this point.

I have been carrying this ADAC badge with me for over 40 years, waiting to pin it on a car worthy of its prestige. That, and my International driver's license that I got when I was stationed in Germany.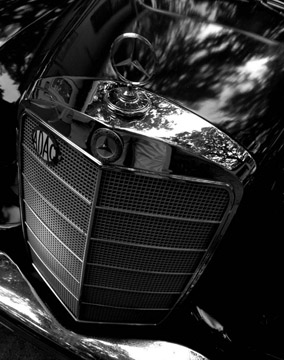 Yes, I have changed just a teensy bit since this photo was taken. The badge now struts proudly as the vanguard of my 219. I enjoy being a member of the International Ponton Owners Group (IPOG) and I enjoy writing, photography, and I am certainly enjoying my new Ponton.

Keep up the great work! / Rich Sobieski / July 8, 2005
---
Created: July 8, 2005 / Jeff Miller
© www.mbzponton.org
---
Return to the Main Photo Gallery
Return to the Type 219 Photo Gallery
---