Pontons in Peru
1960 & 1961 Mercedes-Benz 190b Ponton sedans
Jordan Ponce Gambirazio / jordan@poncecanessa.com.pe / Lima, Peru
---

Left: 1961 Mercedes-Benz Type 190b
Right: 1960 Mercedes-Benz Type 190b
My brother, who knows nothing about cars, bought the blue 1961 190b in 1995. He paid US$ 900. It was running, but it was in such bad condition that he abandoned it in a marble factory. Then in 1998 when the factory was sold, my other brother retrieved it and kept it in a parking lot. In 1999, my father told me to sell the car as scrap metal. I refused, and made the decision to restore it. At that time, the engine was seized, there was no chrome or badges, no monograms, no dashboard, and the upholstery was in lamentable condition. Looking for spare parts, I found two more 1960 190b sedans. One was blue, and the other one was white. The blue one was used for parts. The white one was in very good condition, and I kept it.

1961 190b in the foreground
Using some pieces from the second blue MB, with other pieces found in a Mercedes garage (more of a junkyard than a real garage) located in a poor district of Lima, now the car 85% restored. It has new light beige leather upholstery, and light blue carpeting. There are some minor parts missing, like wipers, door latches, but with time and patience I will find them.
---

1960 Mercedes-Benz Type 190b
While looking for parts for the blue 1961 190b, I found this car literally thrown in a yard, against a corner with lots of debris on top. Once the debris was removed, it appeared literally covered by a layer of dust and dirt which was hardened by the usual humidity of Lima. I removed some of the dust on the windows and realized that the red interior was in very good condition. Then I had to look for the owner. On December 25th 2000, I received a phone call from somebody that knew that the car was given to a garage owner as part of the price for the repair of another car. I bought it for US$ 300 (paid to the garage owner) plus US$ 100 (paid to the yard owner). This car was originally sold to an Army Brigadier General, on June 28th 1960. This man died in 1993. The car was kept inside his garage at home until November 1998, when their sons gave it to the garage owner for the repair of a Datsun.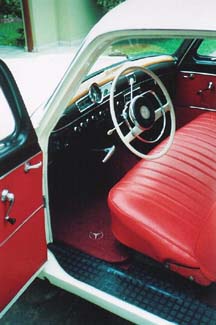 Interior of the 1960 190b
When I bought the car, the engine was seized (they did not remove the water from the radiator), but with a good wash, it revealed its original white color and its beauty. The paint was in bad condition but the captivating red interior was in good condition. Incredibly, in the glove compartment I found all the original papers for the car, the manual, a catalog, the radio manual, invoice, the Unit Delivery Guide (Data Card) with all the characteristics at the time of delivery, traffic tickets, its services invoices, an official crash report, etc. The original Becker radio was in a box in the trunk.

1960 Mercedes-Benz Type 190b on a coast road
Then I decided to keep the car. I used some pieces from the second blue MB, like the entire engine, the windshield, rubbers, a hinge, handles, etc. Today, the car has its original engine again (completely overhauled), the original Becker radio, new paint, new upholstery, new ceiling, red carpets and renewed Bakelite trim pieces (I used petroleum jelly to renovate the Bakelite).
General Information regarding Mercedes-Benz in Peru
The official representatives of Mercedes-Benz in Peru have changed hands many times in the last 40 years. From MB Motors in the 1960s, AUTEC with Mr. Eberhardt Noltenius in the 1970s, to today's Divemotor. So, there are no statistics on how many autos of each type were imported to Peru. Officially, there are almost no parts for old Mercedes-Benz vehicles. In my own experience, I did not find one part from the official Mercedes-Benz representative. They hold inventories only for the new vehicles. However, there are a couple of importers that have some parts in their inventories, or can get the parts for you under request. So, if you are looking for an engine, transmission, suspension or any mechanical parts you can find them relatively easy. If you are looking for parts like headlamps, rear lamps, chrome trim, monograms and any kind of accessories, you have got to go to the USA or find an old MB the same type as yours, which, depending on the type, could be very difficult. Other ways to get parts is to turn to the garages in the popular districts of Lima, where you can find almost anything. There is a family whose last name is Bellido, that owns an old Mercedes Garage in La Victoria, a popular zone of Lima, whose father, in the business since the 1960s, bought a lot of parts during one of the changes of Mercedes official representatives in Peru. So they have many parts for older cars. In order to find something, you have to "dive" into their warehouse. However, they are a good source of parts, information and contacts, because of the length of time they have been in business. The Bellidos offer mechanical services, but the main business is to buy crashed or ruined Mercedes and dismantle them to sell the parts. So you can imagine the place. Need a door? Ok, go to the roof and search between 200 rusted Mercedes doors of all the types that were imported to Peru. Need an engine part like a connecting rod or a piston? Ok, go to the second floor and you literally walk over the mechanical pieces, get lots of patience and search for it. You maybe find your piece, but have to throw away your clothing after that.
Pontons in Peru
In my case, since the white one, I found only three more pontons (besides the "known" ones) in such condition that you can not use them even for parts. In general, there are not too many pontons in Lima. In good condition, I know seven 4 cylinder cars, one of them a cabriolet. Between the six cylinders, I know three or four cars, one of them a 220SE coupé that won the last exhibition of vintage cars in Lima. However, Lima is a city with 8 million people, and there is always something to find over there. Now I am seeking one of our firm's clients, whose father had a 220S in good condition, a car that has been in a covered garage since the 1980s.
Organizations for Mercedes-Benz enthusiasts in Peru
There are no official clubs for Mercedes-Benz enthusiasts in Peru. Other types of cars like Mustangs, muscle cars, Beetles, Jaguars, Volvos, Morris Minors, etc. have their own clubs, but there is nothing for the Mercedes-Benz owner. There is a major club of vintage cars, called Club del Automovil Antiguo del Peru www.automovilantiguo.com.pe founded in 1974 where you can find some Mercedes owners. Other brands like Volkswagen, Volvo or Peugeot have organized events for the old cars to see the status of the fleet, and to let the owners meet each other in order to share experiences, information, data, etc. They also organize clinics for the people to bring their cars and get some technical advice. Sadly, Mercedes does not organize those kind of events. I can assure you they do not have any idea how many people have old Mercedes and the size and interest of the market out there. Nevertheless there is no organization for Mercedes enthusiasts. In the last exhibition organized by the Club del Automovil Antiguo del Peru, where 40 of the best preserved cars in Lima were displayed, there were three Mercedes. One Type 170V, one Type 280SL (W113) "Pagoda" roof and one black 1957 220SE (W128) coupé in exceptional condition. During the last week of July 2002, Mr. Jorge Nicolini, the biggest collector of old cars in Peru, inaugurated his own Museum. It is the most important collection of old cars in South America, but in visiting that museum you can see the preference for American cars. There is only one Mercedes, a red 300SL roadster from the 1950s, that, in my point of view, is the center of the exhibition.
Other Mercedes in Lima
In Lima, you can find many post-Ponton Mercedes. There are many Fintails, 108s, 114s, 115s, etc. Then you can find many 123s, 124s, 126s, and of course, the most recent ones. For example, my cousin Richie has a full equipment 1972 280SE in the American version, that is really a jewel. Presently, he is living in the USA and sadly is selling the car. My other cousin has a 1986 190E 2.6 (W201) in excellent condition. Two of my neighbors have their 1970s and 1980s coupés, and you can find that style and year of Mercedes in the better used cars lots. Like them, there are many people that have their old Mercedes in optimum condition, but as I said, there is not an official organization. With the same ease that you can find old Mercedes in proper condition, you can find others in lamentable condition being used for public transportation (taxi cabs) on the main avenues of Lima. This only serves to demonstrate the quality and the strength of the cars. You can find them carrying produce to market too! The ones that came with gasoline engines, nowadays are equipped with diesel engines (few of them Mercedes) and in most cases are Nissan or Toyota engines which have been adapted to the cars.
My own Mercedes experience
Today I am a 30 year old lawyer. When I was born in 1971, my father had two Fintails, one black 220Sb with white leather interior, power steering, A/C, etc. I used to sit in the armrest between the front seats. This was the first car that I "drove" seated in my father's lap. The other one was a white 220Sb, that was sold a few years later because of the lack of power steering and that sort of thing. The black one stayed with us for several more years, when my father decided to sell it in order to buy a Dodge. The Dodge lasted only two or three years, then it was exchanged for a 1983 Mercedes-Benz 200 (W123). That car is still with us, transporting my mother. This W123 is in optimum condition, and there is no intention to sell it. If someday they want to sell it, I will buy it.
Jordan Ponce Gambirazio / August 7, 2002
---
Update / January 6, 2003
Here are some more pictures of my 1960 190b. These photos were taken on the Carretera Central (Central Highway) at 10,000 feet above sea level. As always, the MB ran tip top.
Jordan Ponce Gambirazio / January 6, 2003
---
Return to the Type 190 Photo Gallery
Return to the Main Photo Gallery
---