Mercedes-Benz Pontons
Andy Hidayat / Lakeland, Florida / andyhid47@yahoo.com
---
---
1959 Mercedes-Benz Type W180 220S Ponton sedan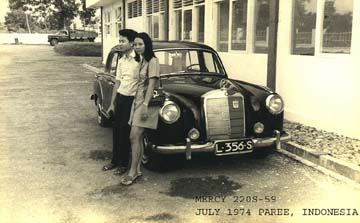 This photo shows my wife and I with my 1959 Type 220S Ponton sedan in February 1974 in the small city of Paree, East Java, Indonesia. We were still young then, and had just gotten married in December 1973. At that time, I worked with a government contractor in Madiun, East Java, and my boss gave me a special marriage present, the (used) 1959 Mercedes-Benz 220S you see in the photo!  It was in very good condition at the time, and its color was black. We were very happy to have this, our first car, and we still (in 2004) keep it in our house in Surabaya, Indonesia. I moved from Surabaya, Indonesia, to Lakeland, Florida in 1992. Here in Florida, I have a 1972 W108 280SEL 4.5 (95% original). I would like to buy a Ponton here if I can find one. Back in Surabaya, I still have two Pontons: the 1959 220S and a 1955 220a. Besides that, in Surabaya, I have two other Mercedes-Benz vehicles. A 1965 W111 220Sb with a 1992 Toyota turbo-diesel engine, and a 1975 W114 250 with a 1990 Nissan turbo-diesel engine. That is my daily driver when I stay in Indonesia.

- Andy S. Hidayat / July 11, 2004
---
Mercedes-Benz Pontons - Yesterday and Today
---
1964 Mercedes-Benz Type W110 190c
This photo was taken in 1977 with my wife and first son, Ronald
Madiun, Indonesia
My first son, Ronald Hidayat in 1977. He is 35 years old in 2010.
---
My grandson, Jeremy Hidayat in front of the 1957 Mercedes-Benz Type 220S Ponton sedan
Another shot of Jeremy with the 1957 220S in Lakeland, Florida
---
During past five years (2004 - 2009), I managed to collect four Pontons; including a 1959 Type 220S (light blue in photo), a 1958 Type 220S (dark green in photo), a 1961 Type 180b (dark blue) and a 1962 Type 190b (beige). Our passion to own this great style of Mercedes-Benz has never faded. Later, we will give them to my four sons to keep, if they have the interest.
Here is a recent photo with my first grandson, Jeremy. The photos were taken November 15, 2009 standing in front of our Pontons in the same position as our 1974 photo.
Best Regards,
Andy and Yohana Hidayat
Lakeland, Florida
November 26, 2009
---
Created: November 27, 2009 / Jeff Miller
© www.mbzponton.org
---
Return to the Type 220S Photo Gallery
Return to the Main Photo Gallery
---