1958 Mercedes-Benz
Type 220S Ponton sedan
Saint-Cloud (Paris), France
---
---
January 30, 2004 / Saint-Cloud, France
Data Card (Lieferschein) Nr. 11743

Chassis No.: 180010-8504861
Engine No.: 180924-8503733
Build/Body No.: A 180010-8502874
History and Overview of the Vehicle

Ordered by Delecroix in Paris, which was the exclusive Mercedes-Benz agent in France during the 1950s
First registered in January 1958
Original color: DB 125 - Perlgrau (Perl Grey)
Interior: Blue leather
Original options: Rear arm rest and windshield washing system
March 2004 / Saint-Cloud, France
Ownership History

2016 - present: owner #6 – from Niort, France
2010 - 2016: owner #5 – from Toulouse, France
2004 - 2010: owner #4 – from Paris, France (author of this web page)
1993 - 2004: owner #3 – from Normandy, France (who sold the sedan for a black W128 220 SE coupe with red leather interior)
1969 - 1993: owner #2 – A psychiatrist from Clermont-Ferrand, France
1958 - 1969: owner #1 – First owner, maybe a doctor

So, we have a French Mercedes-Benz, which probably did not run for many years and did not leave the country for decades. This Ponton was just waiting to be aroused from sleep.
July 31, 2004 / Mareil-Marly, France
Modifications
Repainted (poorly) in white — I still wonder why. A friend of mine thought it was because the Pearl Grey looked like a German military color.
Original fog lamps were removed and replaced by Marchal (French) lamps, themselves replaced with correct Bosch lamps
I have reinstalled an original fuel filter, an original interior rear view mirror and restored the shell, the fuel tank, the carburetors and the whole braking circuit has been rebuilt
December 26th, 2006 / 80 rue de Longchamp, Paris, France
Address is visible with Google Street View
In 2006, the car was repainted in the original DB 125 Pearl Gray paint. This is a photo taken on December 26, 2006 in front of the Mercedes-Benz dealer in Paris. More photos with the new paint are shown below.
DB 125 Pearl Gray paint ingredients
January 12, 2007 / Saint-Cloud, France
January 12, 2007 / Saint-Cloud, France
January 12, 2007 / Saint-Cloud, France
April 1, 2007 / Parc de Saint-Cloud, France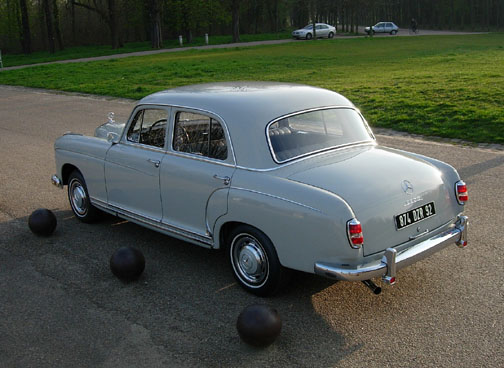 April 1, 2007 / Parc de Saint-Cloud, France
1958 Mercedes-Benz 220S interior with freshly re-dyed leather upholstery / December 2010
Photo uploaded December 3, 2015
Interior of the 220S after renovation: re-colorization of the original blue leather upholstery (respecting the correct shade of blue), new headliner, new varnish on the wood. The background was hidden, which was random and ugly. The photo looks sort of like a catalogue illustration this way.
---
Mercedes-Benz Ponton 50 Year Celebration (1958-2008)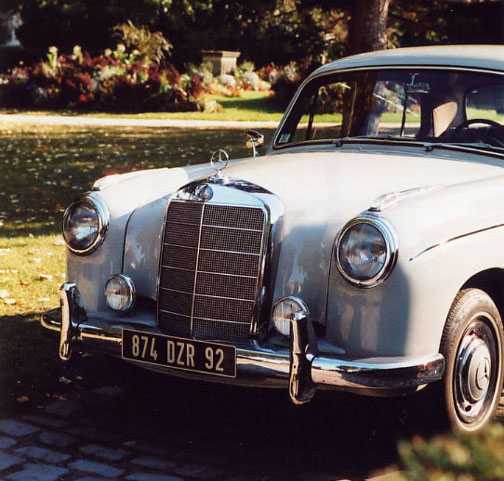 1958 Mercedes-Benz Type W180 220S Ponton sedan
Camera: Leica M6 / Summicron-M 50 mm f/2 / Agfa 135 film
Paris, France / October 2008
MATHEMATICS
Ponton + Leica + Agfa + Pretty Girl = Good Photos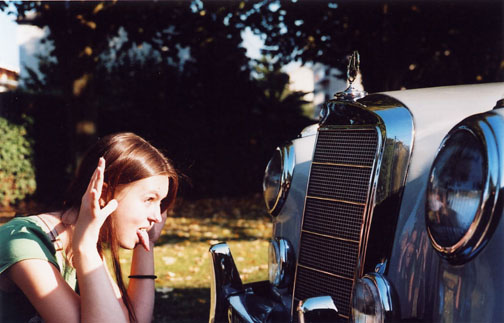 Photo (October 2008) with Edita (Edith) and Mercedes-Benz W123 280E uploaded July 3, 2014
---
Update / July 3-4, 2014
Owner (2010 - 2016): Guy / Toulouse, France
From 2010 to 2016, the Pearl Grey 220S sedan was in the hands of an owner in Toulouse.
This photo also shows his 220S coupé.
Photo uploaded July 3, 2014
Type 220S Ponton coupé. The vintage style license plates were made in Romania.
Photo uploaded July 3, 2014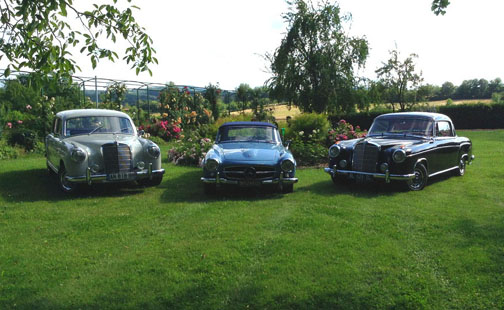 Family of fine Mercedes-Benz Pontons – 1958 220S sedan, Type W121 190SL, and Type 220S coupé.
Photo uploaded July 3, 2014
Photo uploaded July 4, 2014
---
Return to the Type 220S Photo Gallery


Return to the Main Photo Gallery
---