1958 Mercedes-Benz Type L319 Pick-Up
owner: Brad Scanlon / Perth, Australia
---
---
Dear fellow enthusiasts,
My 1958 Type L319 is still in its original 50 year old paint, and has rust in all the usual places. Over the last few years, I found rare NOS and remanufactured panels to completely replace the old rusted originals. The next plan of attack is saving up for a professional panel repair and paint job.
The L319 obviously has its own body parts, but shares the Ponton running gear, engine support cradle (a.k.a. "Fahrschemel"), the "OM 636" diesel engine, gearbox, steering box, and steering wheel. My L319 is in the same condition (from 50+ years of hard work) as when I bought it — all sad and lonely — several years ago, although it was under-cover and dry. You could say I just bought a chassis. Although this project has not been a priority (sometimes life gets in the way) over the years, I have purchased some rare parts and body panels. Potentially, it will soon rise from the ashes with a full restoration, and be on the street holding up traffic with its 38 h.p. diesel engine.
Cheers,
Brad
November 22, 2013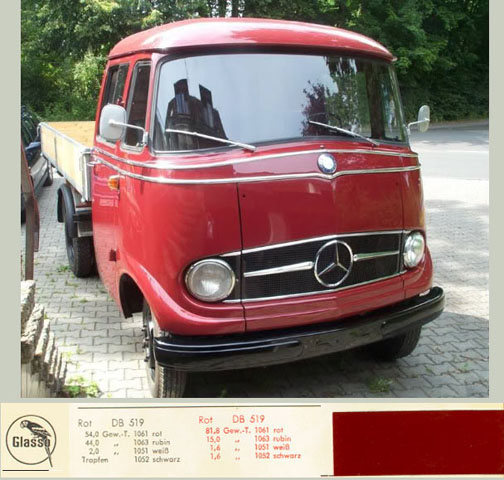 This DB-519 "Red" Type L319 will hopefully look like my finished product in a few years.
---
Created: 22-nov-2013 / Jeff Miller
© www.mbzponton.org
---
Return to the 319 Photo Gallery
Return to the Main Photo Gallery
---