1958 Mercedes-Benz Type 190 Ponton sedan
owner: Jan Naude / naude@com2000.co.za
Somerset West, South Africa
View Jan's 1958 Mercedes-Benz Type 220S Ponton sedan
---
---
Dear Readers,

I bought the car in December, 2008 from a local guy who had it since 1972. The previous owner, Johan Stockenstrom, gave me all the service and repair documents, plus the original set of spare keys. With the help of my three sons, we had the Mercedes-Benz Ponton ready for the George Old Car Show on February 1, 2009. The city of George is about 400 kilometers from Somerset West. I had to replace the engine mounts for the trip; otherwise, it ran like a clock.
Right hand drive (RHD) is normal for South Africa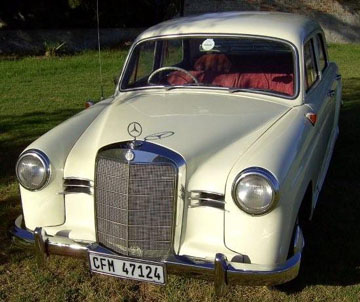 Typically, there are small, round reflectors mounted under the headlights of south African Mercedes-Benz Pontons. The reflectors must comply with the standards set by the South Africa Bureau of Standards. There are a few round reflectors on the market, but the ideal ones have an aluminum base which bolts on, and only requires a 5 mm hole. These are easy to get, either from a DIY shop, or a bicycle repair shop.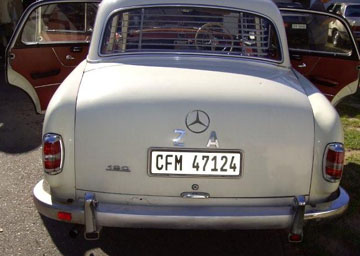 Here, the bumpers and over riders needed re-chroming
Repairs done to the rear stone tray, bumpers and over riders
Steering wheel had cracks and showed signs of age
Paint was the remedy
Upholstery; Note bench seat up front
Water damage on the headliner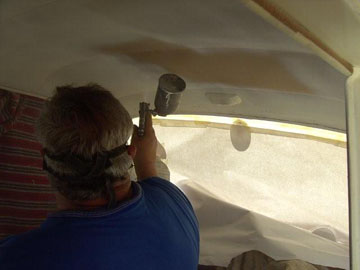 Painting the headliner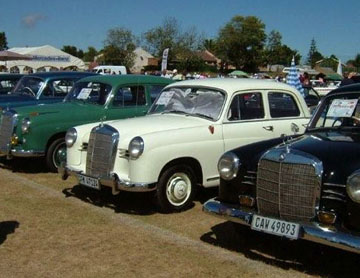 Mercedes-Benz Pontons at the George Old Car Show, February 1, 2009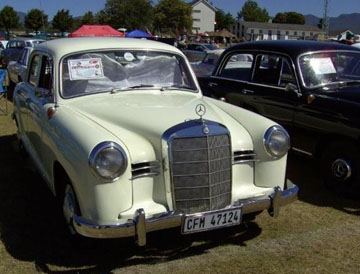 Happy Motoring!
Jan Naude
---
Created: April 24, 2009 / Jeff Miller
© www.mbzponton.org
---
Return to the Type 190 Photo Gallery
Return to the Main Photo Gallery
---