Pon'-ton-o-bil'-ia: n. 1. An object, most often a scaled representation of a Mercedes-Benz Ponton. Also includes any other Ponton minutia suitable for a collection.
---
---
Model of the Type 300b "Adenauer" (1951-1962) limousine - made in Germany by JNF (Josef Neuhierl, Fürth). Neuhierl was founded in Fürth in 1920, and produced this tinplate model from 1952 to 1960. Photo courtesy: Jean Luc Laubreton / France / November 18, 2010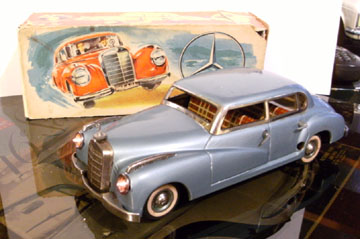 The first door handle controls the on/off drive mechanism. The second door handle controls the headlights.
---
Made in Germany by JNF (Josef Neuhierl, Fürth).  Model of the Type 300b "Adenauer" (1951-1962) limousine.  Neuhierl was founded in Fürth in 1920 and produced this tinplate model from 1952 to 1960.  The replica measures 230 mm long.
Features either a clockwork (wind-up), friction, or battery operated motor.  Luxury editions feature extra chrome and electric headlamps. Also has functional steering.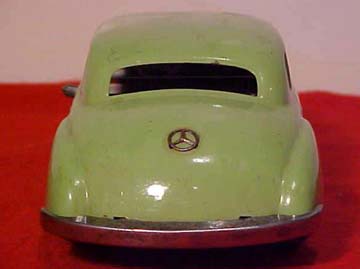 There are several known color variations including green (seen here),  red, black, light blue-turquoise, green metallic, silver, medium blue, white and black. The lithographed tin interior features a plaid pattern. 
A stately limousine in approximately 1:18 scale! On August 6, 2005 I saw a mint condition example of this model at the toy show in Macungie, Pennsylvania for the asking price of $325. It was the same color, but also included the grille star. It had no original packaging or original key. If it had included these items, the temptation to make an offer would have been greater.
---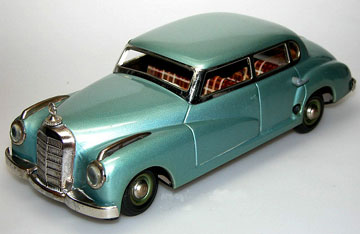 Metallic Green variation of the JNF Type 300b limousine
---
White variation of the JNF Type 300b limousine
---
Black variation of the German-made JNF (Josef Neuhierl, Fürth) Type 300b Adenauer limousine. Unfortunately the grille star is missing on this example. If it were a real 300b, this minor detail would present no problem, as parts vendors (including the Mercedes-Benz factory in Stuttgart) are plentiful. Being a toy makes it considerably more difficult to source a new one. Note the artwork on the original packaging.
---
Medium blue variation of the JNF (Josef Neuhierl, Fürth) Type 300b sedan. Note metal trim around windows and the plaid interior.
---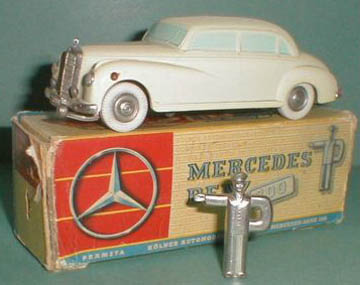 This die-cast Mercedes-Benz Type 300 sedan was made in Germany, (US and British Zones) in the 1950s by Prämeta Koelner Automodelle.  Approximate scale, 1:43.  It originally included a "chauffeur" key.  Update: July 9, 2004: They may have been made by Bauermann & Co. in Cologne.  I need to get clarification on this point.

It has a wind-up clockwork motor with three forward speeds, reverse, and a lever for (according to the base plate annotations) "automatic curves" or "non automatic" straight ahead forward drive.

Prämeta Koelner Automodelle Type 300, red variation with original packaging

Prämeta Koelner Automodelle's Type 300 sedan (a.k.a. "Adenauer" limousine).  A rare, blue variation, with key, and original box.

Prämeta Koelner Automodelle Type 300 limousine, chrome variation, with chauffeur key.  The chrome variation seems to be the most widely available.  The blue color variation is the most unusual, based on my "unscientific sampling" of online auctions.
---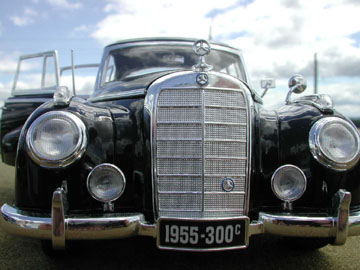 From the Ricko Prestige series, this is model number R32102B, a 1955 Mercedes-Benz Type W186 300c "Adenauer" limousine from Larry Hansen's 1:18 scale die-cast collection. This is an appealing model, which has some very realistic appointments. It includes a Webasto sliding sunroof (in the "closed" position), the upholstery was made to look like sumptuous velour (as originally offered), the dash fascia looks like real wood and there is a tiny "high mileage" grille badge on the radiator shell.
The first Chancellor of West Germany, Konrad Adenauer (1949 - 1963) was chauffeured in one of several of these motor-carriages owned by the government. It was this association that led to the car's nickname. The Type 300 limousines may also have been a source of some frustration for mechanics who serviced them. Being technically advanced cars in their day, they were sometimes referred to as "Add An Hour" ($$$) to the bill.
All four doors and the engine hood open, as does the trunk (revealing two spare tires). The trunk lid also has a "D" badge (country of origin) above the license plate. The only thing missing is the jar of Grey Poupon for the bratwurst picnic in the east garden.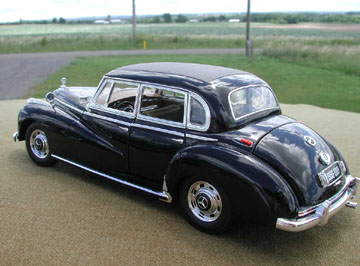 It takes a manufacturer like Ricko about a year to develop and produce a model that involves this much detail. In 2005, the Type 300c limousine was being marketed in the USA through Exoticar by number 32102 and could have been ordered from www.exoticar.com (1-800-exoticar) for $29.95 plus freight. Photos of Larry Hansen's collection courtesy: Jeff Miller / July 2, 2005. Update: This model became part of Jeff Miller's collection on November 2, 2007.
---
Mercedes-Benz 300 by Alps (Japan) circa 1960
Tinplate model with battery operated headlights. Made in Japan by Alps. This model was in particularly nice condition and included the original packaging. It appeared to be in new condition. On November 4, 2008 it sold on eBay for $1,525 USD.
Judging from the packaging, the toy dates from the late 1950s to early 1960s.
Original packaging in mint condition
Rare, attractive model in mint condition, with original packaging all add up to "expensive collector's item."
Mercedes-Benz 300 by Alps (Japan) circa 1960
---
Mercedes-Benz Pontonobilia
Created: June 20, 2001 / Jeff Miller
Last Update: December 16, 2019
© www.mbzponton.org
---
Return to the Ponton Photo Gallery
Return to the Pontonobilia page
---